Shakespeare In Schools
Ignorance is the curse of God, knowledge is the wing wherewith

- Henry VI
Productions
Shakespeare's words were written for theatre, but sadly many students never get the chance to see them played out on a stage. They can only read what is meant to be experienced and, for most, that means dry, dusty words in an 'olde fashioned' language that seems completely irrelevant to 21st Century lives. Chaucer had exactly the same problem!
​So many teachers we know long to offer their students the excitement and spectacle of live theatre, but are unable to do so due to time and budget constraints. In bringing 'meaningless' words to vibrant life, theatre helps them to teach and instil an appreciation and love of the English language into their classes.
This, in turn, helps their students attain better grades.
​Enter Much Ado, stage right, bearing dramatic possibilities from Verona and beyond… a touring theatre in education company that brings sonnet, prose and soliloquy to sparkling life without your students ever needing to leave the school buildings!
As you Like it
One of the beauties of Much Ado is the tremendous flexibility we can offer you by way of content and interpretation. Our programme lies pretty much in your hands!
Productions
We try to tailor all our performances to your precise needs – if you'd like a classic Shakespearean performance complete with ruffs, just let us know! Or if you think your students might respond better to a more modern approach, that's fine too. We'll work with you to create the performance that best benefits your class. But there's more…
Workshops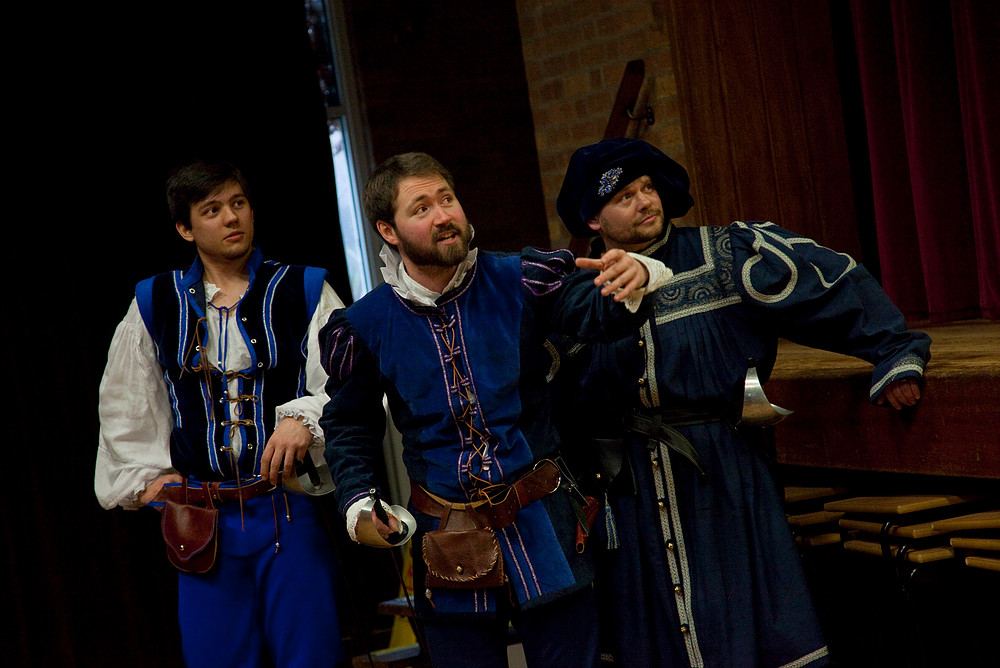 Simply watching a Shakespearean show is all well and good, but actually understanding it can be another kettle of fish entirely! Which is why, if you would like, we'll run in-depth workshops alongside these performances to get into the nitty gritty of the text. Where, to meet the requirements of the AQA GCSE mark scheme, our workshop leaders'll cover whatever aspects of the text you're studying, from the language barrier to specific scenes.
If there's anything at all you'd particularly like to cover in the workshop, just let us know: we do do requests!